In 2 days we will usher in autumn. It hardly seems possible because I know I was just sweating away ten pounds a day with all of the flippin' heat we've had!
And still, it did nothing for my fat ass.
So, with a kiss and a smile or a kick in the pants and a shove down the stairs – most likely the latter. –
I wave goodbye to all things summer 2 days early and with that, I begin my "thankful" list.

#1 – I am thankful that I'll be able to see again after all of the summer eye bleaching moments I experienced.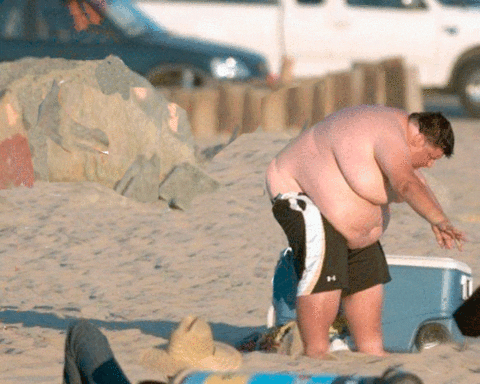 Okay, maybe not this exactly but pretty close.

#2 – I'm thankful that the cooler temps of fall will make other people's deodorant appear as tho it's actually working.

#3 – I'm thankful that everywhere I go now it will smell like pies and cookies baking!

I am soooo serious about this thankful list.
The number of people wandering around in dental floss when what they really needed was a circus tent was astounding!
It's like they all got dressed in the dark!

disclaimer: I'm not "fat shaming" I'm just saying. Try putting on a bathing suit that fits.
And the stinky, sweaty, smelling people that seemed to always be in line right in front of me or right behind me??? Ugh. Seriously? Do you have nasal issues?? You can't smell your own funk??

Sadly, there aren't enough pumpkin spiced candles or pies to be baked that can get rid of the funk.

I just went over my thankful list and just in case you were wondering if it's possible to be bitchy and thankful at the same time. It is.
I hope you have much to be thankful for today even if it's bitchy thanks.
You know I always want to hear about it so drop your thankfuls in the comments below and have an amazing 'Thankful Thursday!'

MIMI'S QUOTE FOR THE DAY – 

Participating in 'Brian's Thankful Thursday Blog Hop' hosted by Brian at 'Brian's Home.' Click on the link to join in!